With Halloween right around the corner, it's time to celebrate everyone's favorite spooky season! But as you're preparing your Halloween costume and decorating your home with scary ghosts and goblins, there's another aspect to Halloween that's also super scary: the loads of added sugar.
There's nothing wrong with enjoying sweet treats throughout the holiday season. After all, who can say no to candy corn? But it's easy to get carried away when the grocery stores at this time of year are practically lined with Halloween candy. 
To help keep things in moderation (while still satisfying your sweet tooth), we've lined up some of our favorite Halloween and fall-themed healthy recipes. These smoothies, cookies, muffins, oats and protein bars are the perfect hearty snacks for loading up on nutrition while still enjoying the spirit of Halloween.
Plus, they each feature one of our top-rated meal replacement shakes. This means you know they're going to have vitamins, minerals, protein, fiber and all the good stuff you need to stay satisfied, healthy, and happy all fall season long. 
Now, let's get to it! Here are 7 healthy sweet treats to enjoy this Halloween:
Keto No-Bake Pumpkin Bars
Image from 310Nutrition.com
We're obsessed with 310 Nutrition's Keto No-Bake Pumpkin Bars! Not only do they taste delicious, but these bars are high in protein, fiber and healthy fats. So you know they're going to help you stay full for longer! Enjoy one of these before heading to your Halloween party and you'll be less likely to overdo it on the Halloween candy. 
Plus they're low-carb, low-sugar and keto-friendly which means they're perfect for all Halloween snackers! And unlike heavily processed and high-sugar energy bars you'll find at the grocery store, these are homemade and healthy. 
Plus they feature the powerful superfood ingredients of our #1 rated meal replacement shake, 310 Nutrition. And their brand-new All-In-One Pumpkin Spice flavor!
Check out 310's Keto No-Bake Pumpkin Bar recipe to whip these up for your next grab-and-go snack. 
Pumpkin Pleaser Smoothie
This list wouldn't be complete without a pumpkin-themed meal replacement shake smoothie recipe! And we're loving this Garden of Life Pumpkin Pleaser Smoothie. It features unsweetened vanilla almond milk, canned pumpkin, cinnamon and pumpkin pie spice or nutmeg. It's pretty much the fall season in smoothie form!
Not only is it super easy to make but it's also really good for you. Canned pumpkin is less than 50 calories per serving and it's high in immune-boosting beta-carotene. Plus lots of fiber, vitamins, and minerals from our #2 rated shake Garden of Life's RAW Fit meal replacement shake. 
Blend up Garden of Life's Pumpkin Pleaser Smoothie recipe today.
Image from 1UpNutrition.com
Who said eating healthy couldn't be delicious?! These Pumpkin Spice Protein Cookies are the perfect sweet treat for the Halloween season. But with this recipe, you can skip all the extra added sugar and add in extra protein instead, (unlike store-bought cookies!).
This recipe uses coconut oil, pumpkin puree, pure maple syrup, 1 egg, vanilla extract, almond flour, 1UP Nutrition's Pumpkin Spice Cake whey protein powder, baking soda and pumpkin pie spice. Then, they recommend topping your cookies with Greek yogurt and cinnamon to keep them extra healthy.
They're unlike any cookie you've tried before. Plus the pumpkin protein powder and puree make these the perfect Halloween treat! And with 24g of protein per serving in our #3 rated 1UP Protein, you'll need less to feel satisfied. 
Get your protein and sweet tooth fix in this 1UP Pumpkin Spice Protein Cookie recipe. 
Homemade Spiced Orange Granola
Image from MyVega.com
Nothing says Halloween season like the delicious combination of cinnamon, nutmeg and clove fall spices. And this Vega One Homemade Spiced Orange Granola recipe has it all! It's the perfect fall topping for your yogurt, smoothie bowls and shakes. 
And the best part about homemade granola? You can mix it up to your heart's content to craft the granola your taste buds are craving! Add in your favorite dried fruit, seeds and fall spices to customize this recipe to your liking.
Plus, unlike store-bought granola, you can manage the amount of sugar that goes into the recipe. Although it sounds healthy, granola can quickly turn into a high-sugar dessert. But when it's homemade, you can ensure you're getting the healthiest version of this hearty snack. 
Check out this Homemade Spiced Orange Granola recipe to add to your yogurt or smoothie bowl! 
5-Minute Energy Oatmeal Power Balls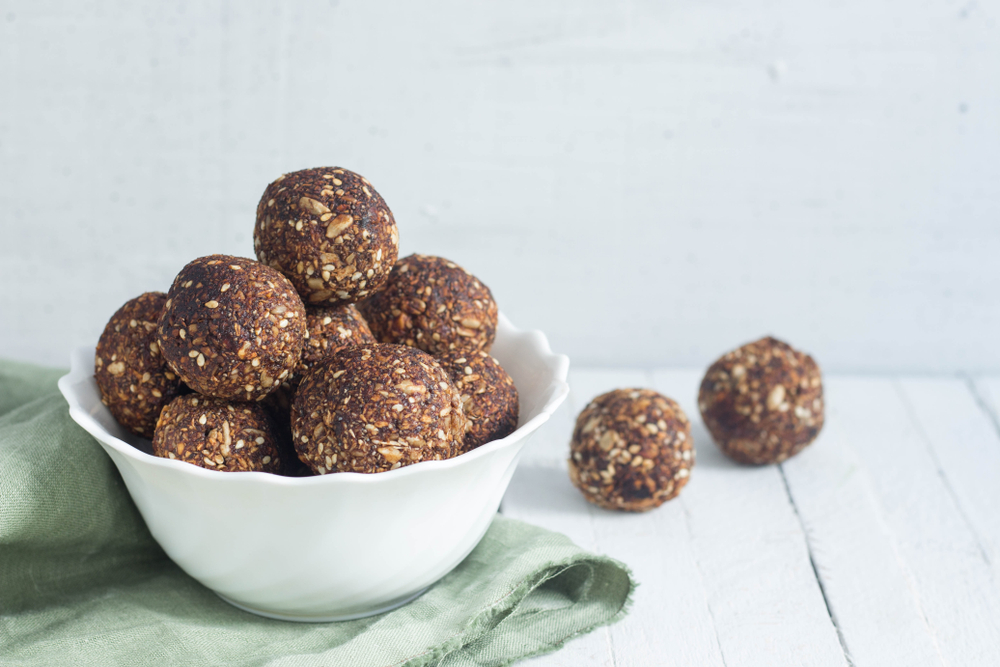 Image from TeamiBlends.com
We're not lying when we say that this protein-packed Energy Oatmeal Power Ball recipe takes only 5 minutes! It's an easy, no-bake recipe featuring only 7 ingredients that you can easily whip up for a quick power snack before trick-or-treating. 
This recipe comes from our #5 rated protein Shake Teami. The ingredients you need include creamy peanut butter, dark chocolate chips, rolled oats, flaxseeds, chia seeds, honey and the protein powder of your choice. 
To make it fall-themed we recommend using a Pumpkin Spice flavor meal replacement shake! Teami doesn't currently offer any Pumpkin flavored protein, but many of our other top-rated shakes do offer pumpkin spice flavors. 
Grab one of these 5-Minute Energy Oatmeal Power Balls before you head out the door to get you ready and healthy for the Halloween season! 
Spiced Apple Vanilla Chai Overnight Oats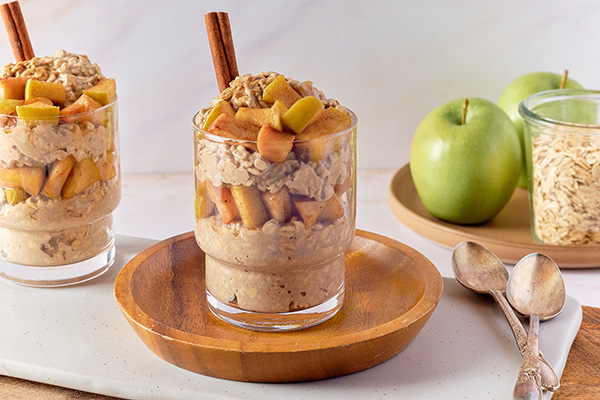 Image from BeachBodyOnDemand.com
Start your day on a healthy and delicious note with this Spiced Apple Vanilla Chai Overnight Oats recipe! It has all the fall flavors you love, plus a ton of nutrients from the apple, oats and the Shakeology Vanilla Chai meal replacement shake. 
As the recipe describes, these overnight oats are practically fall in bowl form. It features hints of your favorite fall flavors like cinnamon, cloves, vanilla, apple spice and coconut. It almost tastes like you're eating an apple pie. Only this is no dessert! 
It takes 8 to 10 minutes to cook up your oats. Then, leave them in the fridge overnight so you can wake up to a hearty, healthy and ready-to-eat breakfast. It's perfect for those busy mornings when you need to take your breakfast on the road. Only, with this breakfast recipe, you don't have to sacrifice nutrition and taste! 
Whip up this Shakeology Spiced Apple Vanilla Chai Overnight Oats recipe for your next breakfast. 
Banana Almond Butter Chocolate Chip Muffins
Image from Kachava.com
One of the desserts that often come to mind when you think of fall is banana bread. But what if you made your banana bread into an on-the-go healthy muffin?! That's why we added Ka'Chava's Banana Almond Butter Chocolate Chip Muffins recipe to the list. 
With this recipe, you get the best of both worlds as delicious mixes with nutritious. This recipe features healthy ingredients like almond flour, bananas, cashew yogurt, flax seeds and almond butter. And instead of sugar, the recipe calls for coconut nectar plus other fall spices like cinnamon and almond extract. 
Not to mention the 85+ superfoods, nutrients and plant-based ingredients you'll find in our #12 rated meal replacement shake Ka'Chava. 
Get this healthy Banana Almond Butter Chocolate Chip Muffin recipe today. 
With these 7 healthy and hearty Halloween treats, you'll be satisfying your sweet tooth while loading up on nutritious ingredients, protein and fiber. Which recipe is your favorite? Let us know in the comments below! And check out our blog for more recipes and healthy tips.